Trolling For Grouper in the Gulf of Mexico
by Captain John C. Bedingham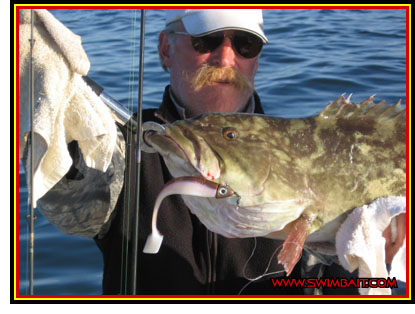 Most of my fishing experience has been in freshwater. I owned and operated a charter boat fishing business in Michigan for 25 plus years. We fished for lake trout, salmon and steelhead mainly in Lake Michigan in deep water. My wife and I moved to Florida six years ago and I started fishing saltwater. A lot of what I did and used in the fresh water I soon found I could use in the saltwater with minor adjustments. The following is one of the tactics I have developed here using Big Hammer swimbaits.
I was first introduced to Big Hammer swimbaits while fishing with some customers. They were three gentlemen that fished all over the world. They were here to fish for grouper and while fishing the traditional way they also cast Big Hammer swimbaits to the rocks below and had good luck doing so, enough that it got me interested in these swimbaits.
In the spring and fall, grouper get very aggressive and can be taken while trolling. They will leave their rocks and chase bait a long way during this time. The traditional way here is to troll Mann's Stretch 25's and 30's, all depending on what depth you are fishing. These lures are tied directly to the line and the depth is determined by how much line is out and at what speed you are going. I knew that if I could get the swimbaits down to the right depth I knew that they would catch fish. That's when my freshwater fishing experience came in. One way we fished up in Lake Michigan was to use what is called a Dipsy Diver made by Lure Jensen. These are circular divers with a counter weight that allows you to fish off to one side or the other or straight in back of the boat. The divers can reach a depth of 100 ft. I was sure that we could troll these at a pretty fast speed as there is a tension screw on the release that can be adjusted accordingly.
The first time I tried this system we were using the Stretch 25's and were fishing in 24' of water. We had had a couple of hits on the lures when I decided to use the diver and Big Hammer combination. I put it down the middle of the boat putting it out about 60 to 70' thinking it would get it down to the 24' ft we were fishing in. I set the rod in the holder and turned around and the rod went off. The first grouper with this combination came aboard. It was a 28" approximately 12# fish. Just awesome!! It was getting to be the end of the day, but we managed to pick up two more grouper, one legal and one short, on this system before calling it quits. We were trolling approximately 3.8 mph and those fish just demolished the baits.
The system I used is trolling rods and reels with the reels loaded with 65 lb. Power Pro line, which allows the divers to get down easier, a Dipsy Diver with the ring (which makes it dive 20% deeper) with a 12" rubber snubber (shock absorber) approximately 6' 40# mono line, then a 6˝" Big Hammer with a 1 oz. lead head jig head. At 3.5 to 4 mph the lure would run approximately 6" to 12" below the diver. When trolling I only use three rods. I plan on using all divers and slowing down a bit with the swimbaits as I feel I will have just as good if not better luck catching more fish, especially the less aggressive fish.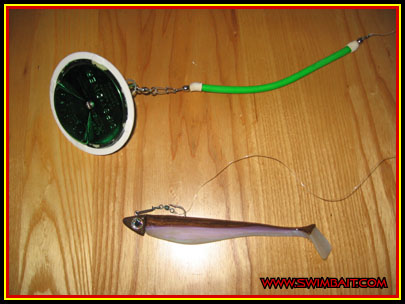 Big Hammer™, Hammer Swimbaits™, Square Tail™, Rectangular Tail™, Square Tail Design™, Rectangular Tail Design™ and the rectangular shaped swimbait tail design are all trademarks owned by Sunrize Tackle, Inc. (parent company of Big Hammer Lures). Use of these terms without written permission by Sunrize Tackle, Inc. is prohibited by law.
The photos, images, text and content of the Big Hammer™ website are copyrighted. These items and information are provided for your convenience and are only intended to be used in the positive promotion and sale of Big Hammer™ products. All other use is prohibited by law.
© Copyright 1993-2016 Sunrize Tackle, Inc. - All Rights Reserved.